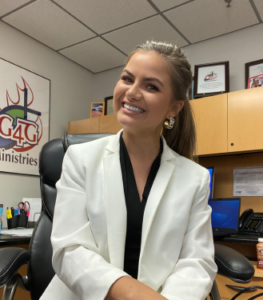 Director of G4G Ministries Inc. 
Layn Tallent Thomas 
A letter from Layn –
To our G4G volunteers, donors, beneficiaries, prayer warriors and supporters:
I'm a graduate of NC State University (GO PACK) and a native Texan. I moved to western North Carolina over ten years ago, and I consider myself a "North Carolinian by choice." I now claim home to Catawba, NC where my husband and I raise goats, miniature ponies, chickens, too many dogs, one cow and some bunnies. We have a family full of fur-babies!
I am thrilled to be a part of this ministry and being part of God's hand in continuing His mission to serve our brothers and sisters physically and spiritually.
Above all else, I love that G4G Ministries Inc. allows individuals an outlet to love people and to love them well. G4G allows individuals to humbly act as the hands and feet of Jesus in a world that is desperate to know His existence. I am eager to share this experience with each of you.
Kindest,
Layn Tallent Thomas
P: 704-380-3708
E: layn@nullg4gministries.com